After 13 races, 4 continents, 10 countries, 48 flights, 4 ferry journeys, and a train ride. It was time to pack my bag for the last time and take my final four flights of the 2014 MotoGP season.
I had been looking forward to the Valencia weekend. Despite it being the final race of the year. I was sharing a house with friends, and it promised to be an enjoyable weekend.
I flew into Valencia on Wednesday evening and headed to the track on Thursday to set up for the weekend. On the way, I took in my 14th Accreditation Center of the season. I'm not sure if I could pick a favourite though.
The layout at Valencia is extremely friendly to the photographer on foot. Several sections can be covered without having to walk for miles as the circuit loops back in on itself. There appeared to be plenty of media shuttles, but I didn't feel compelled to use them.
I had a pretty uneventful weekend, apart from the end of the Moto3 race. I decided to use the pit lane tunnel to bring me back into pit lane for the podium.
The tunnel comes out next to parc-ferme, and when I arrived the area was packed with Alex Marquez's crew and fans waiting for his arrival. There was no way of getting through without upsetting some people.
As I was in a unique position, I decided to wait for Marquez to arrive to see what I could get. I switched my camera's autofocus to auto mode and when Marquez arrived and jumped into the crowd I fired away. It was very much spray and pray, as I had to lift the camera up above my head to avoid the crowd.
When I flicked through the photos I realised I'd made a mistake putting the camera's focus into auto mode. All bar one of the images had missed focus and were unusable. I should have set the focus manually. You live and you learn. Below is the one photo I was able to keep from the dozen or so that were taken.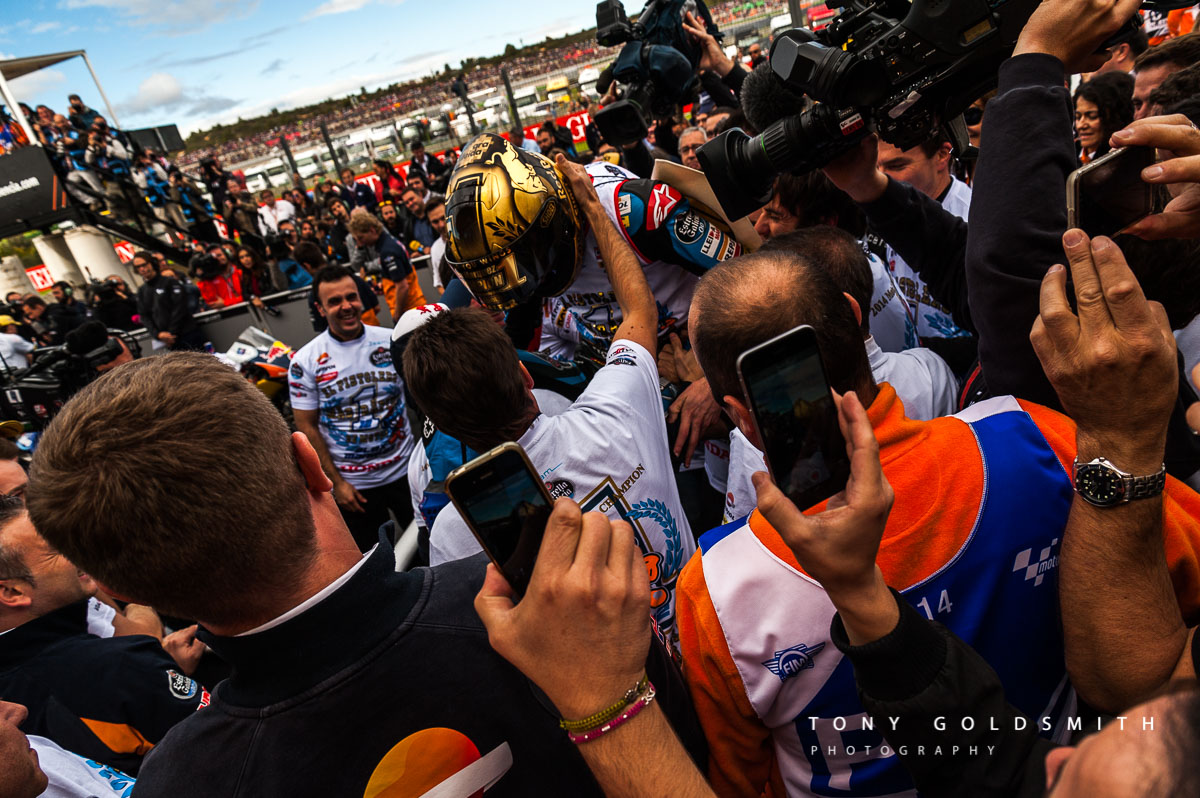 I stayed for the first two days of the test as I was keen to have some images of those riders on new machines. In particular Cal Crutchlow, Jack Miller, and the new Suzuki riders.
As you can imagine, there was a large media presence around the LCR garage as the shutters came up on Monday. Everyone wanted to see Jack Miller on his first day as a MotoGP rider.
After completing some sighting laps, Jack came back in to make some adjustments. I stood on the pit lane wall as he left for his second session, and it looked like his eyeballs were going to pop out of his head.
The media centre at the end of the weekend reminded me of the last day of school before the summer break. People leaving for the winter offseason would be hugging old friends. For others, it was clearly more emotional as they were leaving for the last time.
I've met some fantastic people and have so many great memories of my season in MotoGP. I'd like to thank Jensen Beeler, Scott Jones, Andrew Wheeler, David Emmett, Stephen English, and The O'Stig for their help and friendship. Most importantly I need to thank my partner Clare for her supported and my parents for their help.
For me, the chequered flag has dropped on my MotoGP adventure. Or has it? Watch this space. Apologies for the cheesy racing analogy by the way.